Denys Watkins-Pitchford (aka 'BB') 1905-1990
Denys Watkins-Pitchford was born 25th July 1905, the second son of a country clergyman, the Rev'd Walter Maristow Watkins-Pitchford.
Young Denys, along with his twin brother, Roger, was raised in the Northamptonshire village of Lamport in a lovely Queen Anne-style mansion, one of the loveliest rectories in England.  He was a sickly child and was educated at home. But there was compensation, for he had plenty of spare time to explore the surrounding countryside with gun, rod and butterfly net.
At the age of four a significant event occurred, which was to colour his whole life. It happened one bright summer evening in the nursery at the top of the house where he incontrovertibly saw a gnome. Never was he to be shaken in his belief in the existence of the 'little people'.  At the age of 36 he wrote the greatest book about gnomes in the English language, the Carnegie award-winning saga The Little Grey Men.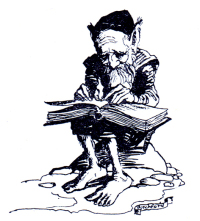 His childlike excitement and wonder never left him, and untinged by adult sentimentality distinguishes his books and pictures; enhanced as they are by a profound sense of history in general and a knowledge of wildlife based on sensual experience.
An innate talent for drawing and painting gained him a place at Northampton School of Art from whence he won a travelling scholarship to Paris, became a post-graduate at the Royal College of Art and ended up as assistant art master at Rugby School, a post he held of 17 years, until he took up as a full-time writer and illustrator.
Although he was to become most famous as 'BB' the writer, the paintings and drawings that he did in his own name - 'Denys Watkins-Pitchford' were always the mainspring of his activity and style.
He wrote like a painter, with an eye for visual accuracy, allied to a poetic turn of phrase. His later texts were enhanced by the black and white scraperboard illustrations, whose 'moonlight witchery' so enhances their romantic charm.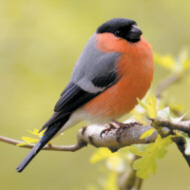 As a painter of birds and animals in the landscape he was undoubtedly the match of any of his contemporaries, but it is with these monotone vignettes and drawings that he is at his most personal and characteristic.
His deep love of his treasured English countryside; his expertise and knowledge of field sports; his early interest in nature conservation, his love of exploration and his collection of children's adventure stories are all included in his list of published works.
The two sports which most stirred his visual and poetic imagination were carp fishing which he can be said virtually to have invented, and goose shooting – his passion for which is acknowledged by his choice of pseudonym – 'BB' – being a size of lead shot he used as a wildfowler.  Both of these pursuits are often solitary occupations, affording the sportsman hours of quiet meditation and observation; and both are undergone at the most secret times of day in mysterious, beautiful and even dangerous places.
As the author 'BB', (Denys Watkins-Pitchford) had no contemporary equal as a writer, illustrator or compiler of books about the English countryside for readers of all ages.
Altogether he wrote some 60 books and illustrated at least another 30 written by other authors. Additionally, he wrote for many newspapers, magazines and also broadcast on radio. He wrote a bi-weekly column in The Shooting Times from the 1930s until a few weeks before his death.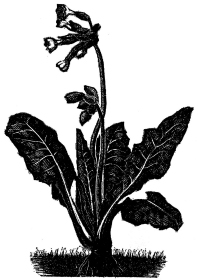 This considerable output was achieved despite a far from easy personal life; dogged by ill-health, he was victim of a family curse laid on his father who, as a young man on a pilgrimage to the Holy Land, made the mistake of refusing alms to a beggar.   The beggar swore that the then unmarried clergyman's first born son would die before manhood, as would the first born son of his second son. And so it transpired: Engel Watkins-Pitchford, BB's elder brother, died as a schoolboy and Deny Watkins-Pitchford's own son, Robin, died at the age of eight.
A further blow fell in 1974 when BB's wife, the former Cecily Adnitt died – in her husband's opinion – from inhaling a pesticide sprayed on a field adjoining their garden. He met these misfortunes with typical Edwardian fortitude.
In 1986, Watkins-Pitchford was awarded an honorary MA by Leicester University and appointed a Member of the Order of the British Empire (MBE) in 1990. By now he was chronically ill and needed regular dialysis treatment. He collapsed and died in September 1990. He is survived by his daughter Angela, who is the President of the BB Society formed in his memory in 1999.
Until the end of his life he remained true to the text taken from an old Cumbrian gravestone and which prefaced all his books:
The wonder of the world
The beauty and the power
The shapes of things,
Their colours, light and shades
These I saw,
Look ye also while life lasts.
BB's literary heritage began with his first publication, an anthology of sporting literature The Sportsman's Bedside Book (1937) gleaned from Rugby School's Temple Library. Likewise, Brendon Chase, the epic story of three public school boys who live a year as outlaws in an English forest (located in fact in the heart of BB's beloved Northamptonshire) must owe almost as much to Rugby as does Tom Brown's Schooldays.
His love of fishing and wildfowling are ensconced in three classic works: Confessions of a Carp Fisher (1950), Tide's Ending (1950) and Dark Estuary (1953). To these three must be added a dozen or so that have continued in print, including such popular anthologies The Countryman's Bedside Book (1941), The Fisherman's Bedside Book (1945) and The Shooting Man's Bedside Book (1948).
His works of fiction include: Wild Lone: The Story of a Pytchley Fox (1938) Manka the Sky Gipsy (1939) and Pool of the Black Witch (1974) a novel widely regarded as the best of all introductory books to fishing.  In the 1960's he began the popular Bill Badger stories for children.
His non-fiction works which include his Road books, describing his travels to various parts of the country with his trusty Landrover 'Winston' and caravan, are packed with evocative descriptions of different parts of the Kingdom in days long gone.
With such an impressive catalogue of work, how might one appraise BB's gift as a writer and artist?  Firstly a God-given creative talent.  Incredible powers of observation.  A heartfelt affinity with his subject and a compelling desire to succeed.
Above all else, BB was a true-blue countryman.  We shall not see his like again.