Welcome to this extensive website set up by the BB Society in 2012. 
Although of course the site has been written for the enjoyment of anybody who may have an interest in the life and works of the renowned Northamptonshire author, illustrator and countryman, Denys Watkins-Pitchford MBE - perhaps best known by his pen name 'BB', it is hoped that it will encourage an interest in the Society and all its widespread activities.
Here you will find out about the man himself and the extraordinary talented life that he led.  His innate love of nature and the wonders of the natural world go hand in hand with the legendary imagination which so often played such a key role in his writings.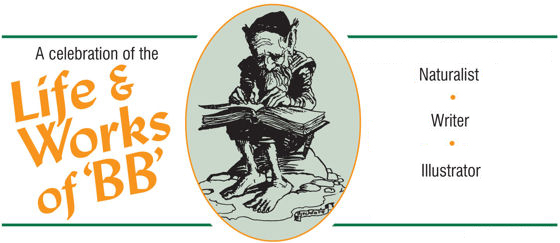 The story of his life is set out on the biography page and the complete list of the many books that he wrote and illustrated are listed on the bibliography page, with ideas and suggestions as to how to obtain some of his books which are becoming increasingly hard to find nowadays.
The Society is a thriving organisation dedicated to maintaining the interest and aspirations bequeathed to us by BB himself, and it seeks to perpetuate the inheritance that he left us where a desire to encourage an interest and love of the countryside is concerned.
We hope that you enjoy the diversity of topics highlighted within the website, be they country pursuits, conservation, reading, poetry or archives, and of course a taste of BB's matchless illustrations that play such a role in reminding us of the enchanting legacy that he left us.
If you can't find what you're looking for on this site, try our Page Index, or Contact Us.