About The Little Grey Men
From Chat GPT:
"The Little Grey Men" is a children's fantasy novel written by Denys Watkins-Pitchford, who published his works under the pen name "BB." The book was first published in 1942 and has since become a classic of British children's literature. It is also known by its full title, "The Little Grey Men: A Story for the Young in Heart."
The story follows the adventures of four tiny gnomes who are the last surviving members of the once-thriving Borrowers community in the English countryside. The gnomes, named Dodder, Baldmoney, Sneezewort, and Cloudberry, embark on a quest to find their missing brother, Cloudberry, and to discover what has happened to their homeland, the Folly Brook.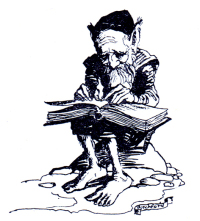 The Little Grey Men live a simple and idyllic life in the woods, but they become concerned when they notice that they are the only ones left. They set out on a perilous journey, navigating the dangers of the natural world, encountering various animals, and experiencing both excitement and adversity along the way.
As they travel, the gnomes encounter a range of memorable characters, including a poetic mole named Mouldiwarp, a wise heron called Henry William, and the sinister "Grey Owl," who has plans to drain Folly Brook. The gnomes must summon their courage, resourcefulness, and loyalty to overcome these challenges and save their home.
"The Little Grey Men" is celebrated for its vivid and detailed descriptions of the natural world, with Watkins-Pitchford's background as a naturalist and illustrator shining through in the book. The story combines elements of adventure, suspense, and gentle humor, capturing the imaginations of readers both young and old.
Denys Watkins-Pitchford's writing style, under his pen name "BB," emphasizes a deep connection to nature and an appreciation for the wonders of the English countryside. His descriptions of the landscapes and the characters' interactions with the natural world create a sense of enchantment and wonder, making "The Little Grey Men" a beloved classic in children's literature.
Overall, "The Little Grey Men" is a charming and timeless tale that showcases the power of friendship, courage, and the importance of preserving the beauty of nature.